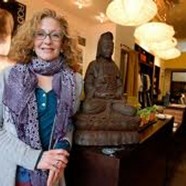 Welcome to the Boomer Biz Zone!
The membership community for entrepreneurs over 50
You may be surprised to discover that we 50+ boomers are the fastest-growing group of new business owners in the U.S. today.



More and more of us are jumping on the entrepreneurial track for the first time at 50, 60 or older.
At this point in life, starting a business can be both scary and very exhilarating at the same time – quite possibly for the first time in your work life you're able to turn your ideas into action, quickly and without the interference of higher-ups.
Sign Up for the
Boomer Biz Zone eZine
This is the voice of the Boomer Biz Zone community. In each issue you'll find useful resources, great articles and powerful connections to help you "go and grow" with your boomer business.

If you have an interesting 50+ business to share, we'd love to interview you for our "Running a Great Business After 50" podcast series – invest about 30 minutes of your time and receive a mp3 file to use as you wish.
Listen to the series

Request Interview
Please include your name and phone number in your e-mail reply.
[Form id="12″]
But, if you're like I was when I started my first business you may not even know what you don't know.
Over the past twenty-five years I have had the great pleasure of guiding hundreds of my boomer peers to turn a skill, interest or good product idea into great businesses.
Along the way, I've developed a support network for what I do everyday and I benefit everyday from networking with my fellow boomer entrepreneurs. I want to share both with you.
I've designed Boomer Biz Zone to provide you with a single source for all the learning, counseling, training, planning, services and networking you need and desire to make your life as a boomer entrepreneur as rich and fruitful as you possible.
How We'll Help You
Our mission in the Boomer Biz Zone is to:
Give you quick access to all the training, coaching and services you need to launch and grow your business.
Provide you regular opportunities to share with your fellow boomer business owners through learning events and networking opportunities.
To fit our resources to your needs, we offer two levels of membership.
Starter Club Membership
Our Starter Club Membership is specially designed for anyone just starting to think about becoming their own boss.
When you join you have immediate access to guides, checklists and articles that help you evaluate your readiness to start your business in the near future and show you what life is like as a boomer business owner.
Go & Grow Membership
Our Go & Grow Membership is perfect for anyone well focused on a specific business idea who's ready to get his business up and running.
When you join, you have immediate access to our award-winning Start Your Business NOW! Start-Up School which leads you step-by-step to turn your good idea into a great business…in a matter of weeks.
Once you launch your business, you'll want to join our monthly Business Booster teleseminars; listen to the newest installment in our "Running a Great Business After 50" podcast series; and share with both our expert business coaches and your fellow boomer business owners via our Private Facebook Group, open only to Go & Grow members.
$97 per month
Our Privacy Pledge
We don't like to receive spam e-mail and we bet you don't like it either. We do everything we can to hold your personal information secure…and we never sell or otherwise share your information!
Thank you for visiting Boomer Biz Zone.
We look forward to you joining our community where you can always find the help and connections you're looking for.






Jeff Williams
CEO of Bizstarters.com
and creator of Boomer Biz Zone